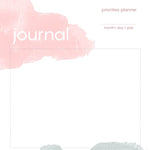 Hello!
How are you? That is a loaded question. We are living during a pandemic, most of us are quarantined, under "stay home" and social distancing. I can't say how hard it is to have your life turned upside down, routines destroyed, and a new normal taking place.
But what I can say for sure is that God's word is alive and powerful. Journaling, writing prayer requests, and memorizing scripture have been life-giving for me.
I'd love to share with you the journaling pages I've been using, and prayer pages too! Take a peek below and download them. I pray you download these pages and use them to strengthen your relationship with Jesus.

The prayer page above helps me to write down prayers requests from my Bible study, prayers requests I see on FB, and praying in general for our leaders and fantastic healthcare workers, risking their lives to save lives.
The journal page is a great tool to write about your feelings, experiences with social distancing. I encourage you to journal to God Himself. Why? Because He cares about every detail of our lives.
"Cast all your anxiety on him because he cares for you."
1 Peter 5:7 New International Version (NIV)
Download a PDF file for a prayer page here.
Download a PDF file for a journal page here.
Please use these pages for personal use only. Thank you!
Ursula