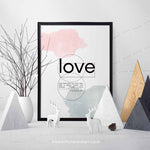 Hello! Do you think about Christmas decorations this early on in the year? Even if you are not, I hope to inspire you to try something different this Christmas.

I've put together four different styles: "Rustic Christmas," "Scandi Christmas," "Moody Blues Christmas," and "Traditional Red and White Christmas decor." Which one draws your eye the most?
Rustic Christmas decorations + Inspirational Wall Art 
Put together a beautiful rustic Christmas scene with a few objects. Empty  glass jars, pinecones, and brown raffia. Here are three items that would complete this look:
Scandi Christmas + Inspirational Wall Art
Scandi Christmas decor is peaceful and subdued. This style is my favorite. I encourage you to try this style and simplify your Christmas.
Re-create this Christmas scene using these three decorations.
Wood Triangles (paint them white, grey and black ;)
Moody Blues Christmas
I know a few friends that decorate a special corner of their home using a theme. This idea shows how a blue palette could work for a mantle. What do you think?
Here a few decorations to help you re-create this mantle idea:
White or blue stars
Red and White traditional Christmas
Red and white decor is a classic that will never look outdated. Take a look below at the decor suggestions for a red and white Christmas.
Wood star with lights (similar)
Do you have a favorite color theme for your Christmas decor? I would love to hear from you under the comments.
Until next time ;)
Ursula